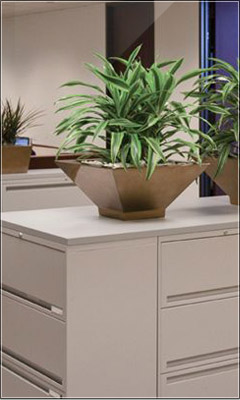 Plants emit oxygen, which can help make your employees more conscious and alert.
Plants in the workplace are proven to increase work morale and productivity.
It only takes one to two medium plants per 100 square feet to improve air quality.
Live interior plants may increase worker productivity and reduce stress by as much as 12%.
You can burn as many calories in 45 minutes of gardening as in
30 minutes of aerobics. One hour of weeding burns 300 calories (the same
as walking or bicycling at a moderate pace) and manual push mowing of
the lawn burns 500 calories per hour) the same rate as playing tennis.
Women 50 and older who gardened at least once a week had higher bone density than those who jogged, walked, swam or did aerobics.
Workers with a view of natural elements, such as trees and
flowers, experienced less job stress, were more satisfied with their
jobs and reported fewer ailments and headaches than those who had no
outside view or could only see built elements from their windows.
Recent research show that just 3 average floor-standing plants
or 6 standard table-top plants significantly improve the air quality in
an average-sized office.
Plants thrive on carbon dioxide and convert it to oxygen. The
increase in oxygen allows humans to be more focused, creative,
attentive, happier and, most important, healthier.
In hotel settings, rooms with garden views are often the first to be reserved and command premium pricing.
Workers in plant-friendly environments miss fewer days of work and experience less job stress.
A view of plants increases positive feelings and reduces stress, fear and anger.
In various studies, plants have been shown to reduce absenteeism by 14%.