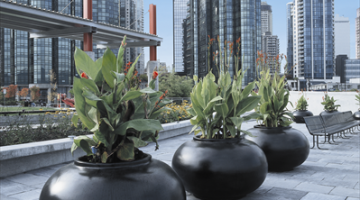 Exterior

Landscaping Services

Peter The Plantman has been creating award winning landscaping designs in Calgary and area for over 30 years. Our experienced designers and landscapers have the knowledge and ability to make your exterior landscaping come alive. We offer a variety of services from design, installation and maintenance depending on your needs.
Landscaping Creates a Healthier Living Environment
Peter The Plantman will work with your company to design and create a landscape that will enhance your property appearance. It will create a more inviting experience for your tenants and attract new clients and customers to your property. Having a functional and aesthetically pleasing outdoor living space will give your tenants a place to enjoy the outdoors during their workday.
Personalize professional design to enhance your corporate outdoor office space
Consistent and reliable maintenance; a time-saver
 Gives immediate curb appeal
 Supports LEED designation and compliance
All debris is composted and removed from corporate sites