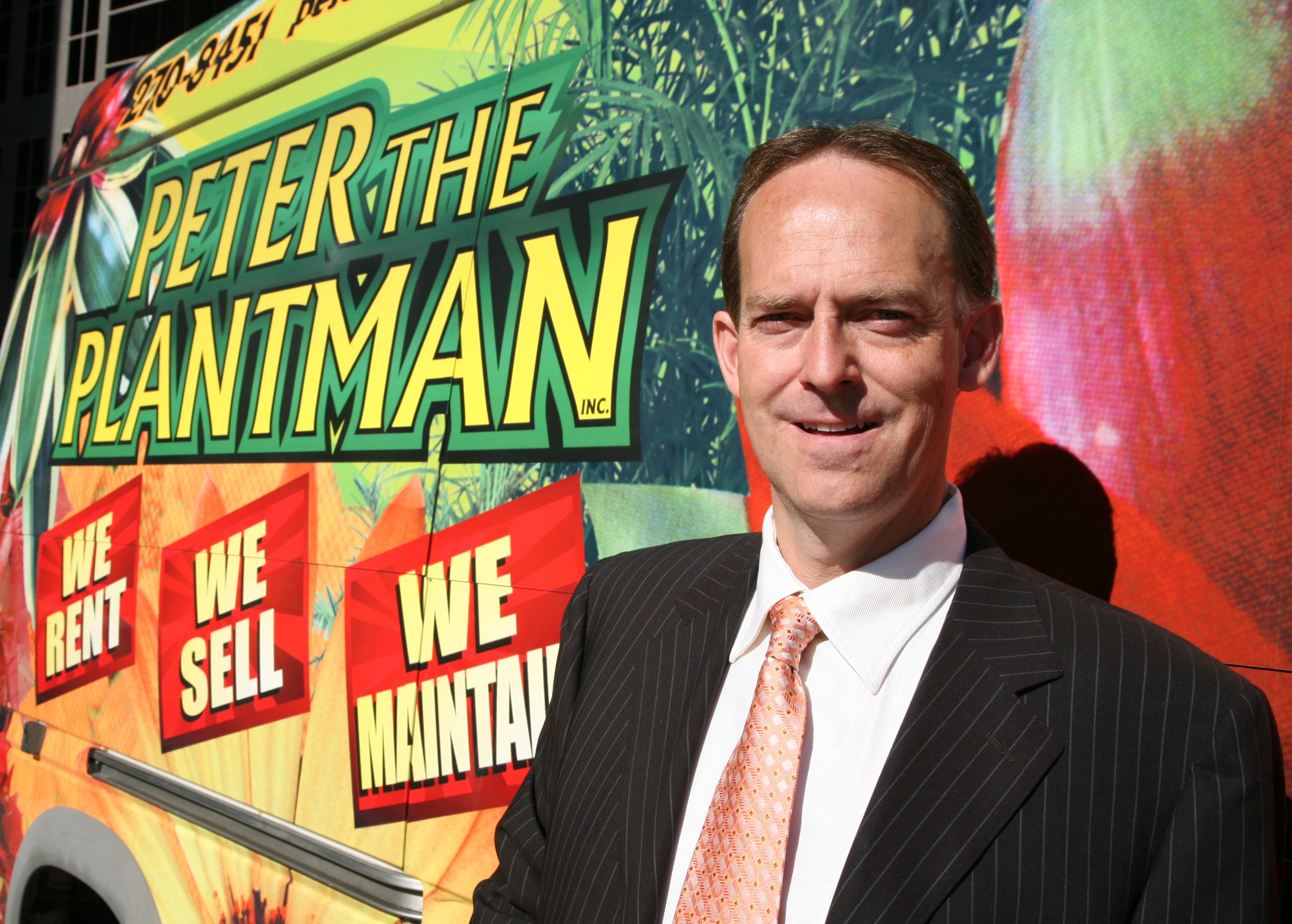 Peter Hughes is far from your average gardener. In the over 30 years that Peter The Plantman has been in business, Peter has grown his one-man gardening company into a more-than 50-person team.
Peter started Peter The Plantman after learning to garden through a work experience program in high school. Upon graduation, Peter spent six-and-a-half years working for a greenhouse company where he learned the science of maintaining plants and flowers. On August 11, 1986, Peter The Plantman was created and has since earned the status of premier interior/exterior landscape company in Calgary.  Today, the company continues to expand operations through acquisitions, purchase of competitors, and hiring quality of employees.
"The benefits of plants are endless - especially in office environments", says Peter. Plants have been linked to increased employee morale and productivity, and are able to remove toxins common in indoor corporate spaces such as glues and paints in carpets and furniture. When placed around the exterior of buildings, plants and flowers are appealing and inviting, and encourage passers-by to take a closer look.
Peter The Plantman offers a variety of services in the Calgary area, including interior and exterior landscaping for corporate offices and special events, as well as tropical plants, flowers, and silk plants for rental and purchase. The company also offers holiday plants for rent or purchase, including poinsettias, poinsettia trees, Christmas trees, and they sell a selection of unique plant containers for all occasions.
Peter and Lori Hughes built a large greenhouse in the Spring of 2011. You can find the new location at 250010 Mountain View Trail in Calgary, about one kilometer North of Highway 1, near the Springbank airport.
Peter The Plantman builds effective strategies based on what the client wants and needs for plants, and knows that service and price are paramount. They believe that support in a team environment, where creativity and suggestions are valued, can result in greater success.
Peter The Plantman is not just Peter. It's the employee team that makes Peter The Plantman. I always call myself just 'the water boy'. There's a lot of people that have made it work. I gave a speech to my staff and I said: There's a lot of people that aren't here anymore that made the company too. And I'm very humble about that. It's about the people. That's what we're all about, building relationships with our customers."
- Peter Hughes, President and Founder